Winfried Muhlum-Pyrapheros Musica Nova Contemplativa (LP)
GENRE: Sound Art | FORMAT: LP| CATALOG N. BLUME 16 | YEAR. (2019)
Edition of 300 LP on black vinyl. Audiophile pressing. Including printed inner sleeve housing a Nagaoka anti-static record sleeve, plus an original insert that functions as Obi. Surely one of the finest Blume reissues to date and represents the uncovering of a genuine lost gem.** Joining their broad efforts in building networks of context and understanding, spanning historical and contemporary territories of adventurous sound, Blume Editions is thrilled to announce the long awaited return of Winfried Mühlum-Pyrápheros' Musica Nova Contemplativa. Originally issued in 1970, this stunning artifact of its era has, until now, remained among the rarest artifacts in the field of cross-disciplinary efforts known as the Artist Record - sonic adventures embarked on by artists primarily dedicated to the visual realm. Creatively challenging, ahead of its time, and unquestionably beautiful, its rare musicality sets the stage for alternate understandings of what minimalism was, and were it came from, during its early years.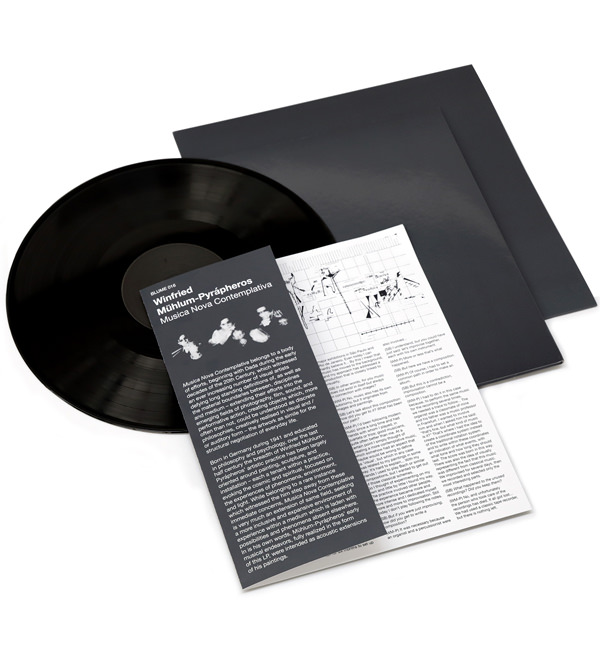 Droning and tense, subtle melodic elements underpin sheets of tone and atonality, sculpting an incongruous sense of spacial ambience, the conception of Musica Nova Contemplativa, drew on a unique, unfixed compositional system, created by combining traditional musical notation with mobile and variable elements, expressed graphically as a system of coordinates which leave variation, interpretation, and improvisation up to the performer. Captured as eleven distinct movements, the work, with hindsight, can now be understood as lost, freestanding work of musical minimalism - echoing idiom's roots in Fluxus and the raw temperaments of artists like Tony Conrad and Henry Flynt, threaded with touchstones in the work of Eliane Radigue, Giacinto Scelsi, and Jani Christou.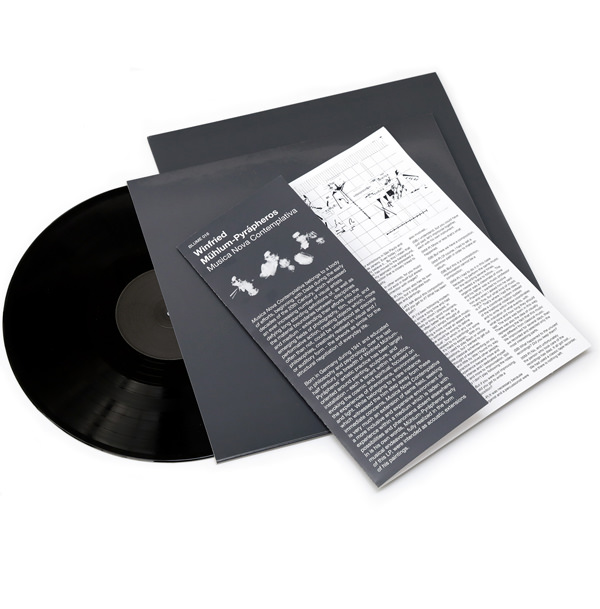 Born in Germany during 1941 and educated in philosophy and psychology, over the last half century the bulk of Winfried Mühlum-Pyrápheros' artistic output has been largely oriented around painting, sculpture, and installation, each focused on the experiences of phenomena, environment, and light. Musica Nova Contemplativa, beginning as graphic score, composed in 1964, then interpreted and recorded by Mühlum-Pyrápheros on violin and Johann Georg Ickler on organ, three years later in a Franciscan church in Bensheim, is a logical extension of the artists broader concerns - seeking further territories of inclusive and expansive environments of experience. Intended as acoustic extensions of his paintings, the collective contents of the album are a metaphysical and esoteric rising in sound.

Out of print for almost 50 years, this edition represents its first ever reissue in any form, complete with an interview conducted between Winfried Mühlum-Pyrápheros and Stefan Bremer, conducted for this occasion, and newly commissioned liner notes by Bradford Bailey.